Kitting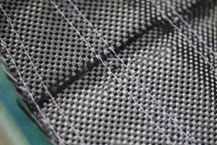 With the help of modern software tools, the executions are created from the available 3D data of the mould geo­me­tries. After the completion of the heating layouts by En­gi­nee­ring department, the cutting of the individual layers of fabric is done according to the individually created layer layout. The layers are laid in the exact position and are fixed temporarily. In the course of the deposition process, the fibretemp® contacting strips are incorporated, as per the pre-calculated number and with the necessary conductor cross-section. A single-side insertion of the insulating layer of glass fibre fabric completes the fibre set.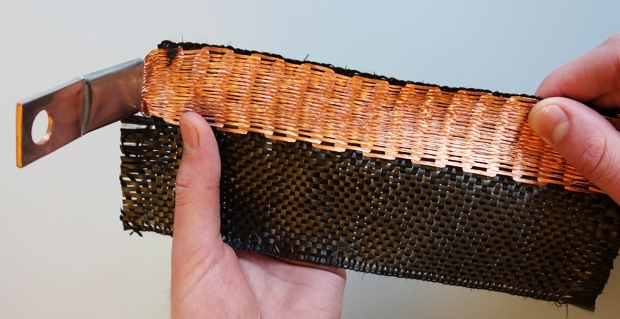 In the standard version, the contacting strips get a crimped-on copper connector which is led out from the back of the mould shell. On request, we also implement alternative connectors for contacts on the side of the mould edge.
After the first function test of the heating kit under vacuum, the fibre set is attached flexibly by sewing. The entire fibre construction thereby remains drapable in comparison to adhesive binding technologies.
In the contacting area of the heating panel a prestress is created between the carbon fibre fabrics and the contacting strip while sewing. Through this step, the contact resistance is already reduced so sharply that the heating kit can be operated also without additional pressurisation by vacuum.
Through the insertion of the two-sided contacting strip, the conductive cross section is increased in these zones. This causes the heating panel in the area of contacts to be cooler than in the actual heating area of the mould.
In the case of moulds with a single heating panel, the contacting area is usually positioned on the edge of the mould. In the case of large moulds that consist of several heating panels, the contacting areas are arranged in an overlapping manner. This procedure will ensure that the heating power in the transition area between two heating panels turns out to be homogeneous.