Hardware for heating
Due to the low electrical resistance of carbon fibre heating elements, fibretemp® systems are operated predominantly in the low voltage range up to 40 V.
The electrical supply is via transformers or switched-mode power supply technology.
The devices and components are assembled for the respective application and are supplied integrated into cabinets or in table-top/desk housings. Required wiring with connectors and sensors are part of the hardware solutions.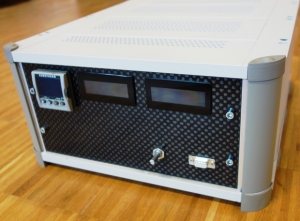 For heating power up to 3KVA, we offer standardised systems that are available ex stock. The ft-e-3000 hardware is equipped with a PID controller, a switched power supply, inputs and outputs for controller programming and the connection for a temperature sensor. Stable terminals accept wire cross-sections up to 25mm² for supply to the heating panel. In this form, up to 4m² surface can be heated in a controlled manner.
Of course, you can also purchase accessories such as temperature sensors, temperature monitors and cables from us. We can equip you with turnkey systems, including com­mis­sioning on site, on request.