Active cooling
Active cooling using a perforated aluminium honeycomb core.
The aim of this development was a hybrid mould tool which provides the principles of rapid heating of the fibretemp® system and optionally the function of active cooling. The com­bi­na­tion enables both rapid heating rate at low energy input and an efficient regulation by re­mo­ving the released heat, which is produced primarily in thick-walled components by an ex­o­ther­mic reaction.
The combined use for temperature regulation also allows for rapid cool down of the finished product after curing or consolidation so that the moulds can be reused promptly.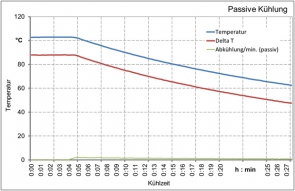 Passive cool-down of a heating mould with 100 mm mineral wool as insulation cover at 20 °C ambient temperature. Averaged cool-down rate: 0.44 K/min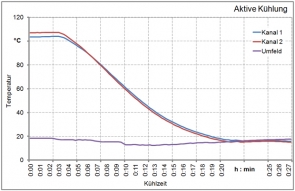 Active cooling of a heating mould with 100 mm mineral wool as insulation cover and 2 °C air temperature. Average cooling rate: 5.3 K/min