Benefits at a glance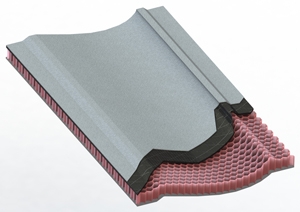 The CRP heating layers are integrated in the upper top layer of the sandwich construction.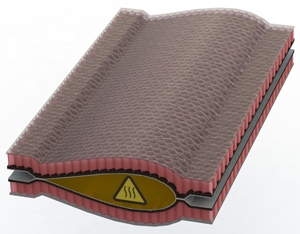 The heat is generated at surface of the mould that faces the component. Through the insulating effect of the sandwich construction the heat remains in the mould.
fibretemp® mould tools enable shorter cycle times in manufacturing.
Very uniform temperature distribution with high energy efficiency.
fibretemp® moulds have short reaction times to temperature changes.
Owing to CRP construction, the moulds are dimensionally stable (zero thermal expansion).

Good temperature controllability with a simple programming of temperature time behaviour.

The heat is generated directly on the surface (short heat flow paths).
Low weight and insulation result in a low heating capacity of the mould itself.
The C-fibre laminate construction makes it possible to create individual heating power.
The entire top layer is the structure of the mould and at the same time also the heating element.
The structure of the moulds is made in a sandwich construction (insulation integrated).
Using the fibretemp® kits you can produce heatable moulds in your own production facility easily and quickly.