FIBRETEMP KITS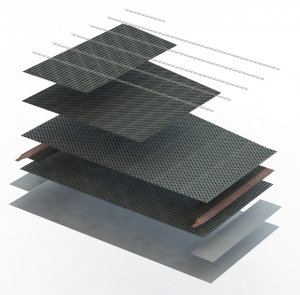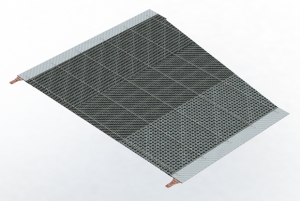 The fibretemp® kits offer professional mould construction.
On the basis of geometric input data and some additional information, we create a heating kit according to the Heating Preform Assembly (HPA) process.
The kit includes the design of the heating, cutting of the heating fabric layers and the assembly and fittings for the contacting part.
The use of a fibretemp® heating kit has enormous potential to save time in the construction of heated moulds. The ex­pe­rienced mould toolmakers can quickly and successfully produce electrically heatable moulds without specific training on fibre deposition for CRP heating. A detailed description of the procedure is provided with each heating kit.
Based on an existing master plug, the heating kit is placed on the prepared top layer of the mould, the functioning is tested and the layer is impregnated with resin by vacuum infusion.
In the second step, the sandwich construction is completed through the honeycomb core and the rear covering layers.
The finished mould shell can be finally attached to a base frame. After connecting the control and regulation unit, the mould is ready.
For specific questions, our Service team is always available over the phone and will support you with the construction on your site.